Sold! 104 Jefferson Houghton Lake, MI 48629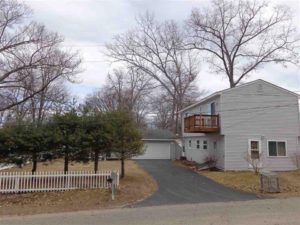 This two story, turn key, furnished home offers an exclusive one-of-a-kind hilltop view overlooking Houghton Lake's southern shore. With its open floor plan, three spacious bedrooms, and two separate baths, this home is the perfect, move-in-ready, option for families who want to enjoy endless lakeside summers and unforgettable family moments.
In this home you really can have it all. From the numerous large bedrooms and prime recreational opportunities right in your very own backyard, to furnishings and even your very own white picket fence. This home is 1,400 square feet of fairy tale potential that you won't want to miss.
Houghton Lake, and the surrounding area throughout Roscommon County, is more than just an unforgettable vacation paradise for families, seniors, students, outdoor recreational enthusiasts, and more, it is a home for people just like you. Living lakeside in Houghton Lake is about having a safe place to bring or even raise your family as well as enjoy the simple pleasures of life. You can find anything you need or want in Houghton Lake; perhaps it's time to start looking for your next home.
Basic Features
Landscaped
Detached Garage with Electric Opener
Standing Shower
First Floor Laundry
Large Great Room
Oven/ Electric Range
Refrigerator
Washer & Dryer
Though this particular Houghton Lake property is no longer available, if you trust in the capabilities of Ken Carlson, he can help you find the perfect home in Northern Michigan in no time. Whether you are looking for a new vacation spot to help you relax and enjoy Michigan's four beautifully unique seasons, or a starter house for your budding family, Ken Carlson can help you find the perfect place to call home. With a loving and supportive family of his own, Ken Carlson understands the importance of honesty, integrity, and reliability in terms of home buying, and uses those foundational values to help other people find a safe homes where they can take care of and share memories with their own families. His impeccable knowledge of Northern Michigan, years of extensive experience, and collection of well-connected friends make Ken Carlson one of the most well-informed and effective realtors in Northern Michigan when it comes connecting people with the lakefront properties they love. Call Ken today at 989.240.0970, and let him help you find your perfect dream home within your ideal budget. With your patience, and his skills and determination, it won't be long before you're all moved in.
Information contained herein is not guaranteed, and is subject to change without notification. Room size, square foot measurements, lot size and acreage, tax information, parcel numbers, age of dwellings, mineral rights, legal access to a body of water and possession terms should be independently verified by any interested party.
« SOLD! 2039 E Higgins Lake Dr. Roscommon, MI 48653 | Home | AuSable River Current Inventory for Sale »