SOLD! Up North home nestled in the woods just across from the street from Higgins Lake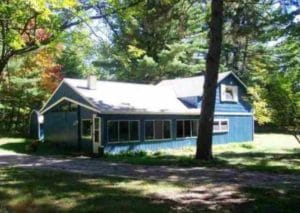 There's a reason why people find Northern Michigan living so appealing and this home and its location are the perfect example. This property is on a huge corner lot and is nestled privately in the woods at the bottom of a hill, just across the street from one of Northern Michigan's favorite lakes. The new owners have only a short walk to the public access on Higgins Lake where they will enjoy endless opportunities for recreation. Higgins Lake is a favorite of fishermen, boaters, kayakers, swimmers, and sunbathers alike. The private lot offers its own charms with its mature trees and fire pit. The large outdoor 20 x 25 foot screened porch can be enjoyed in just about any season where the new owners will be able sit and relax and feel the gentle breezes off the lake. The master bedroom is a spacious 10 x 15, the kitchen is 15 x15 and the living area has built-in bookcases.
The newer home at 204 E Hillsdale Dr, Roscommon MI 48653 was built in 2000 and just remodeled in 2015 with all new flooring including new carpet and hard surface flooring in kitchen and dining room. Other amenities include the gorgeous knotty pine living room with vaulted ceilings, gas fireplace, stainless steel kitchen appliances, including dishwasher, freezer, microwave oven and range and a separate laundry room with hookups.
The large shed is hooked up with electricity and a work bench for those projects and makes a perfect place to store your tools, toys and other stuff. Like many of the properties in Northern Michigan, you're never far from great recreation including world-class golf courses, hiking, biking, snowmobiling, four wheeling and cross country trails, and water fun like swimming, skiing, boating and fishing on all the hundreds of inland lakes.
While this property is no longer available, you can still find your perfect home in Northern Michigan before the summer ends. Ken Carlson is Northern Michigan's real estate agent and can find you the home or cottage of your dreams including homes with lakefront or lake access properties.
Though properties sell fast, there are currently several homes on the market in Northern Michigan and near Higgins Lake and Houghton Lake, as well as lakefront properties. There are homes available in just about any price range and now is the time to buy while interest rates are still low and inventory is still available. For more information about other properties for sale in Northern Michigan or on Higgins Lake, Houghton Lake or in Roscommon and Northern Michigan, call Ken Carlson at 989.240.0970.
« SOLD! Home with lots of charm in Higgins Lake Forest subdivision near Higgins Lake South Park and Houghton Lake | Home | Higgins Lakefront Inventory Right Now »