112 Albermarle Higgins Lake MI 48627
Higgins Lakefront Home and/or Business Opportunity
It is rare that an opportunity to purchase not only a beautiful home but an already established business as well comes along, especially one located on the shores of Higgins Lake, one of Michigan's most beautiful and popular all-sports lakes. 112 Albermarle Higgins Lake MI 48627 is just such an opportunity. (May be purchased without business opportunity.)
The home itself, selling for $475,000, is a 1.5 story home with 100 feet of pristine Higgins lakefront property. Featuring wood frame construction and wood exterior, the home is spacious, built in 1977 and features a large living room, separate kitchen as well as dining room, 3 bedrooms and first floor laundry. In addition, beautiful vaulted ceilings, gorgeous fieldstone fireplace, deck overlooking the lake and large windows off the living room, offer amazing views and a great place to relax and enjoy the finest qualities of Northern Michigan living. Other unique features such as beautiful stained glass windows, ceiling fans and manicured lawn with stone firepit, cater to your individuality and style.
Additional Business Opportunity for 112 Albermarle Higgins Lake, MI 48627
Interested in owning a great business in addition to a beautiful Higgins Lake front home? If so, 112 Albermarle is the perfect opportunity for you.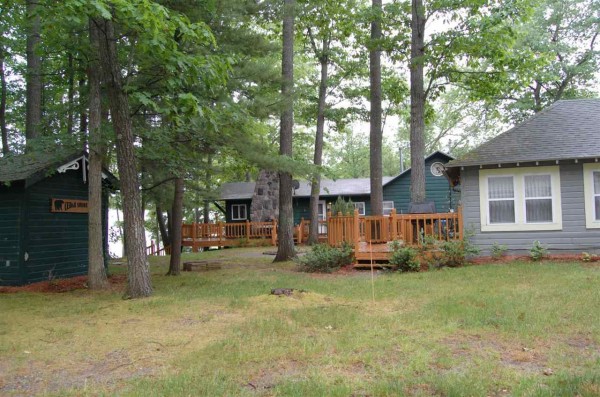 100 feet of gorgeous lakefront with beautiful northern Michigan sunrises and stunning sunsets overlooking Higgins Lake, this is the lakefront property/business of a lifetime. Currently known as Cedar Shore Cabins LLC, this property has steady income from weekly rentals. Visit Higginslake.com for illustrations of weekly rental rates for The Masters Inn, Gray Lady, & Brass Bell.
Purchaser of land & buildings has first right to purchase business opportunity. Sale includes but is not limited to: Higginslake.com domain name, client list, existing weekly rentals prorated to date of closing, DBA Cedar Shore Cabins LLC. Sale price allocated as follows: Real estate $475,000.00 business opportunity $65,000.00, for a total cost of both business and home of just $540,000. Year built unknown by seller.
If you would like to see more of this beautiful property and find out if it is right for you, we invite you to contact us to schedule a showing. Call Ken Carlson today at 989.240.0970 or email us here to find out more.
« Featured Home for Sale 210 Arbutus Lane Roscommon, MI 48653 | Home | Featured Home For Sale 4912 Dawn Dr Grayling MI 49738 »