AuSable Riverfront Homes for Sale this Winter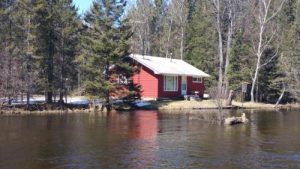 AuSable Riverfront homes can be considered a smart investment just about any time of year and maybe even more so this winter. Northern Michigan's AuSable River runs through the cities of Grayling and Roscommon and is one of Michigan's most desirable recreational attractions. The 138 miles scenic AuSable River is a favorite for trout fishing, kayaking and canoeing. There are dozens of homes and cottages for sale right now along this majestic river that offer privacy as well as a kind of serenity that only living along the river can provide. Home owners along the AuSable River enjoy a peaceful setting where they can view wildlife and different varieties of birds in abundance. They will also never have to worry about a neighbor moving in behind them as the gently flowing river is the first thing they see when they walk out their back door. Because houses along the AuSable River are in limited supply, it makes them more desirable and they tend to retain and increase their value over time, making the property a great investment for future generations. The wide variety of homes along the AuSable River are as unique as they are diverse, so whether you're looking for a large family home with all the amenities, or a simple cabin for weekend get-a-ways you're sure to find the perfect property.
Living in Northern Michigan along the scenic AuSable River puts you and your family in close proximity to recreational activities like hiking and biking trails, lakes and rivers where the fishing is unsurpassed. Now is the time to buy while interest rates are still low, and as winter comes, sellers might be more motivated to negotiate a good price. If living along a peaceful river, enjoying a secluded and relaxed atmosphere is something you've been dreaming of, there has never been a better time to start your search.
Begin your search today to find your ideal home along the AuSable River, with Ken Carlson Realty, by calling Ken at 1.989.240.0970. Ken Carlson Realty is your trusted source for Northern Michigan Residential Property Listings covering the counties of Crawford and Roscommon and residential properties in the cities of Grayling, Higgins Lake, Houghton Lake, Roscommon and more.
Information contained herein is not guaranteed, and is subject to change without notification. Room size, square foot measurements, lot size and acreage , tax information, parcel numbers, age of dwellings, mineral rights, legal access to a body of water and possession terms should be independently verified by any interested party.
« Houghton Lakefront Homes for Sale this Winter | Home | SOLD! Immaculately Maintained 3-Bedroom Home Nestled in a Beautiful Rustic Setting – 306 Robinhood St. Roscommon MI 48653 »