Houghton Lakefront Homes for Sale this Winter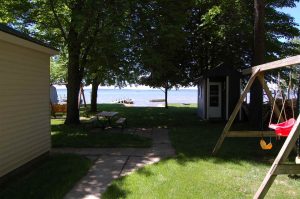 Houghton Lakefront properties are hot this winter. According to Money Magazine, October has just become the most popular month for newlyweds to tie the knot. While spring and summer have historically been the most popular times to plan a wedding or to buy a house, that may no longer hold true. If couples are getting married in the fall, they might also be purchasing homes in the fall and winter, and that might turn out to be a good idea. When you start your home search in the fall and winter months, you may be able to benefit from homeowners who didn't sell in the summer and could be more eager and willing to negotiate. Also, people who put their homes up for sale in the off season may be more motivated to sell quickly.
It might be winter, but now could be the perfect time to purchase that dream home or cottage on Houghton Lake. There are still many affordable properties available on Houghton Lake that may meet your budget. The wide variety of homes along the lake from cozy cottages to luxury estates, make it easier than ever to find the ideal property for you and your family. Your winter home purchase could be an investment that will last for years to come as your lakefront home continues to increase in value. Demand is high for Houghton lakefront property, because Houghton Lake, like other cities in Northern Michigan, is a premier resort and recreational area. Northern Michigan is known for its scenic beauty, its 19 million acres of woodlands and thousands of inland lakes, and Houghton Lake is a Northern Michigan favorite. Houghton Lake is Michigan's largest inland lake with a surface area of 20,044 acres. The area is a tranquil, family-orientated community that offers an abundance of recreational activities, including fishing, hiking, biking, swimming, bird watching.
Winter can be a great time to begin your search and Ken Carlson Realty is your Houghton Lake specialist. Call Ken at today at 1.989.240.0970 to start the search. Ken Carlson Realty is your source for Northern Michigan Residential Real Estate covering the counties of Crawford and Roscommon and residential properties in the cities of Grayling, Higgins Lake, Houghton Lake, Roscommon and more.
Information contained herein is not guaranteed, and is subject to change without notification. Room size, square foot measurements, lot size and acreage , tax information, parcel numbers, age of dwellings, mineral rights, legal access to a body of water and possession terms should be independently verified by any interested party.
« Higgins Lakefront Homes for Sale this Winter | Home | AuSable Riverfront Homes for Sale this Winter »