Higgins Lake Waterfront Property SOLD – 115 Forest Trail Higgins Lake, MI 48627 + Adjoining Property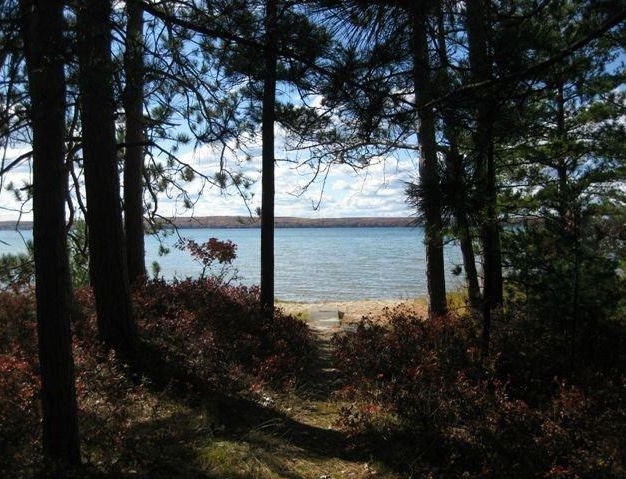 Many people dream about living on a lake and here is a dream come true by taking advantage of a rare find, with the use of Ken Carlson's services.  Lakefront land on Higgins Lake is getting harder and harder to find, so finding these amazing, adjoining properties is truly exciting.  The first lot is deep wooded parcel of land with a sandy beach front and lake bottom that will be enjoyed by the new owners for years to come. The primary lot is ready to build their dream home on and its south east location is going to provide the family with the perfect setting to view spectacular sunsets. The adjoining property with cottage was included in the purchase giving the new owners plenty of room for fun in the sun.
Higgins Lake which was formed by a retreating glacial ice sheet is considered one of the most beautiful lakes in the world. The deep lake provides great fishing and is filled with trout, pike, bass, splake,  perch and provides the ideal place to view a wide variety of plants, birds and animal species that make their home on the lake. It's no wonder homes and properties on this scenic lake get snapped up as soon as they go on the market.
Owning property on Higgins Lake is highly desirable lake is a great investment in your future.
Living on Higgins Lake offers plenty of privacy and yet it's only a few miles from Roscommon if you need to go to town . People who live on a lake have 24/7 access to natures wonders. Sandy beaches, clear blue water, a connection with nature and a kind of tranquility that is priceless are only a few of the benefits of lake living. Some studies suggest that living on the waterfront produces a calming effect that can lead to lower blood pressure, less stress and a longer life.
If lakefront living sounds like something you might enjoy, if you're ready to exchange the sounds of constant traffic for the calming sounds of water lapping up against the shore, call Ken Carson Realty today to begin the search.  Whether you're looking for land to build on or an already established lakefront home, Ken can help you find it. Ken Carlson has been a resident of Higgins Lake for over 61 years and is your source for Northern Michigan Residential Real Estate covering the counties of Crawford, Missaukee, Roscommon, Otsego and Residential properties in the cities of Grayling, Higgins Lake, Houghton Lake, Gaylord, Roscommon and more. Call Ken at 1.989.240.0970.
The above illustration is for planning purposes only and the user should consult the vendors that perform all the above services for specific costs. An attorney and CPA should be consulted for any legal liability, taxes and costs of ownership. Township and county ordinances should be verified for any compliance necessary.
Information contained herein is not guaranteed, and is subject to change without notification. Room size, sq.ft measurements, lot size and acreage , tax information, parcel numbers, age of dwellings, mineral rights, legal access to a body of water and possession terms should be independently verified by any interested party.
« Higgins Lakefront Property SOLD – 1005 Sam O Set Higgins Lake, MI 48627 | Home | Just listed – 112 Lily Roscommon, MI 48653 »