Higgins Lakefront Property SOLD – 1005 Sam O Set Higgins Lake, MI 48627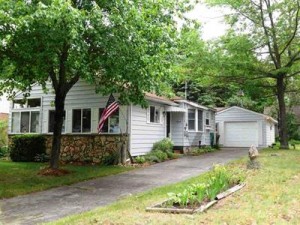 Homes are selling fast in the Higgins Lake area. This one recently sold for $236,000.  The new owners are going to enjoy this lakefront home with 50 feet of private beach and a boat dock. The home has a spacious living area with large windows that offer a magnificent view of the lake. There are 3 bedrooms and 1.5 baths, an attached garage, basement and natural heat and a stone fireplace with gas logs that will warm the new family for years to come.
View 1005 Sam O Set Higgins Lake, MI 48627 >>
Parking money in real estate still seems to be a great investment at Higgins Lake. During the past 12 months, 16 properties have sold on the lake. There are still plenty of inventories to choose from on Higgins Lake and spring 2016 will be a good time to shop and purchase as bank mortgage rates are still reasonable. The properties that sold over the past 12 months were priced from $236K to $655K showing there is opportunity for all budgets and price points. There are still dozens of listings currently on the market with more coming on during the spring inventory buildup. Listing prices have not increased significantly since the 2006 recession. The average price for waterfront land is $4,500.00 per foot with values being less if there are unique characteristics surrounding a property. I suggest you get your prequalification mortgage letter and come to the lake ready to have me show you the best properties. Some have been on the market for longer and sellers may be motivated to move them out! If you do not see the property you are looking for I will go to work to find the right property for you. I have leads that come along that may be ready to sell in the coming months that are not listed as of today. Higgins Lake is a great destination being only 2 to 2 1/2 hours from most metro areas downstate. The water is beautiful colors of blue and crystal clear in some areas that you can see 15 to 20 feet below the surface with gorgeous sandy bottoms. The fishing is good in all seasons.
Ken Carlson Realty is your source for Northern Michigan Residential Real Estate covering the counties of Crawford, Missaukee, Roscommon, and Otsego and Residential properties in the cities of Grayling, Higgins Lake, Houghton Lake, Gaylord, Roscommon and more.
Begin your search today in either of these prime lakes in Northern Michigan, with Ken Carlson Realty, by calling Ken at 1.989.240.0970.
The above illustration is for planning purposes only and the user should consult the vendors that perform all the above services for specific costs. An attorney and CPA should be consulted for any legal liability, taxes and costs of ownership. Township and county ordinances should be verified for any compliance necessary.
Information contained herein is not guaranteed, and is subject to change without notification. Room size, sq.ft measurements, lot size and acreage , tax information, parcel numbers, age of dwellings, mineral rights, legal access to a body of water and possession terms should be independently verified by any interested party.
« Residential or Commercial Use Property for Sale Right on Houghton Lake: Find out more about 6299 E Houghton Lake Drive | Home | Higgins Lake Waterfront Property SOLD – 115 Forest Trail Higgins Lake, MI 48627 + Adjoining Property »