Higgins Lakefront Homes for Sale this Winter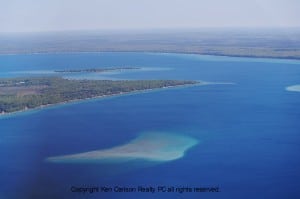 On Higgins Lake there are dozens of lakefront properties available making it likely that you'll find the perfect home or cottage in your price range that you and your family and friends will enjoy for years to come. These properties on Higgins Lake sell fast though and because of the desirability of lakefront living, they can be excellent investments. If owning a lakefront property on Higgins Lake has been your dream, it's time to make that dream a reality. Higgins Lake is considered one of the most beautiful lakes in the world and being able to own property along the lake is not only a smart financial investment, but lake living has been shown to reduce stress and create a sense of tranquility, and that's priceless in this hectic world.
There's nothing more beautiful than the Higgins Lake area in winter as the fresh snow falls on the cross country skiing and snowmobiling trails. Northern Michigan is so well-known for its spectacularly groomed trails that people visit from all over the state and beyond visit for cross country skiing and snowmobiling . If you own your own home on Higgins Lake, you'll be able to sit back and enjoy the panoramic view that stretches out for endless miles while enjoying your favorite snack or beverage right from your privacy of your own backyard. Other winter favorites in Higgins Lake include hiking and ice fishing.
There are many good reasons why Higgins Lake is one of the most desirable places in Michigan to plan a vacation or purchase a home. Recreational opportunities exist all year long and include fishing, hunting, swimming, kayaking, cross country skiing and more. The cool clear waters of Higgins Lake make it ideal for perch, pike and trout and its beautiful shorelines are home to an abundance of wildlife.
If owning a home on Higgins Lake is something you've always dreamed of but never acted on, now is the time. Ken Carlson Realty is your trusted source on lakefront property on Higgins Lake and will help you begin your search today. Call Ken today at 989.240.0970 to get started. Ken Carlson Realty Residential Real Estate covers the counties of Crawford and Roscommon and residential properties in the cities of Grayling, Higgins Lake, Houghton Lake, Roscommon and more.
Information contained herein is not guaranteed, and is subject to change without notification. Room size, square foot measurements, lot size and acreage , tax information, parcel numbers, age of dwellings, mineral rights, legal access to a body of water and possession terms should be independently verified by any interested party.
« SOLD! North Branch AuSable Riverfront Property – 1494 Harolds Trail Grayling, MI 49738 | Home | Houghton Lakefront Homes for Sale this Winter »