NEW LISTING! Beautiful home near Grayling including central air, 3 bedrooms, 2 full baths and more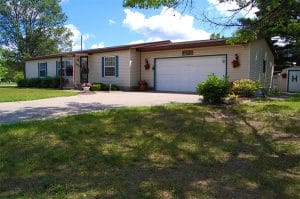 This beautiful modern home includes central air, 3 bedrooms, 2 full baths, split floor design, large walk-in closets and is located just north of town by a just a few short, walkable blocks. The property includes a large 2 car attached garage with garage opener, an 8 x 10 outdoor storage or garden shed, and a door wall that leads to a covered outdoor patio surrounded by a wood fence for dining and entertaining in privacy. When guests arrive you can take advantage of additional parking drive space that's right next to the house. This 1,344 square foot home on a beautifully treed 75 x 148 foot lot is priced to sell fast at only $84,500.
The master bedroom is 11 x 13, additional bedrooms are 10 x 13 and the spacious 13 x 18 living room allows everyone a place to relax in comfort. The 9 x 13 kitchen includes an island for dining as well as a separate 12 x 13 dining area. The washer and dryer located in the 5 x 13 utility room and are included with the purchase. Additional appliances and equipment that come with purchase include blinds, ceiling fan, dishwasher, microwave, refrigerator, range and oven.
When it comes to property and buying a home, they say location is everything and that's especially true in Northern Michigan in popular cities like Grayling. Grayling is one of Michigan's most loved recreational destinations and has something for every member of the family to enjoy. Whether you enjoying top-notch golf courses, fishing, skiing, swimming, hunting, biking, nature walks or just the peace and quiet of rural living, Grayling has is all. Grayling provides the ultimate outdoor experience and is the perfect example of all that Northern Michigan has to offer to prospective home buyers.
Don't let this amazing new listing pass by without taking a look. It's clean and well-maintained and ready to become your family's new home. For more information about homes like this one in Grayling or other properties for sale in Northern Michigan, call Ken Carlson Realty today at 989.240.0970 to begin your search.
Ken Carlson Realty is Northern Michigan's real estate expert and is waiting to make your dreams of owning a Northern Michigan home become a reality. Ken specializes in Northern Michigan's real estate properties and can help you find the home of your dreams that fits all of your needs at a price that fits your budget. Call 989.240.0970 now before this one is sold!
Information contained herein is not guaranteed, and is subject to change without notification. Room size, square foot measurements, lot size and acreage, tax information, parcel numbers, age of dwellings, mineral rights, legal access to a body of water and possession terms should be independently verified by any interested party.
*information as of 8.3.2017
« NEW LISTING! 40 acres of hunting land in Roscommon with home set back from road for privacy | Home | Current Inventory for Sale on Higgins Lakefront »