Current Inventory for Sale on Higgins Lakefront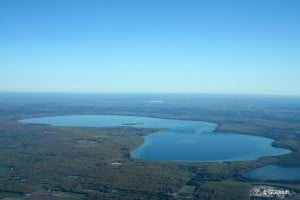 Higgins Lake properties are some of the most desirable properties in the entire state and while they are in high demand, it's not too late to make your dreams of owning Higgins Lake front property a reality. There is something for every price range, from vacant land starting as low at $10,000 to luxury estates upwards of a million dollars, and everything in between.
Starting out with a blank slate on one of the highly affordable vacant lots, you can create just about any home you can imagine. Many of these beautiful treed lots are either on the lake or within a short walking distance and some offer great opportunities for convenient walk-out basements.
Ever imagined living in a log cabin? Higgins Lake properties offer simple affordable log cabins as well as high end luxury log homes located on multiple acres. Log cabin homes* are available with more than 2,500 square feet of living space, multiple bedrooms and baths, stone fireplaces, gourmet kitchens with granite countertops, stainless steel appliances, fireplaces, kitchen islands, dual ovens, extensive yards with pristine landscaping, docks to tie up your boats and water toys and massive decks for entertaining.
Whether you're looking for a weekend get-a-way or a permanent residence, Higgins Lake has just what you're looking for. From cozy rustic cabins to ultra-modern homes with all the amenities you can imagine, you're sure to find just what you're looking for. Higgins Lake properties are a great investment and have continued to appreciate in or held their value even during low economic periods. Homeowners seek out these lakefront homes for their scenic beauty, privacy and the tranquility they offer. With beautiful Higgins Lake to gaze upon each morning as you enjoy your morning cup of coffee, the sounds of nature and the waters gently lapping on the shoreline, lakefront living is your prescription for good health.
Ken Carlson Realty is Northern Michigan's real estate expert and is waiting to make your dreams of owning a lakefront or lake access home a reality. Ken specializes in Northern Michigan lakefront properties and can help you find the home of your dreams at a price that fits your budget. Now is the time to buy a home on Higgins Lake! Don't let any of the great listings available right now pass by without taking a look. For more information about homes and properties for sale on Higgins Lake, Houghton Lake, or Northern Michigan, call Ken Carlson today at 989.240.0970.
Information contained herein is not guaranteed, and is subject to change without notification. Room size, square foot measurements, lot size and acreage, tax information, parcel numbers, age of dwellings, mineral rights, legal access to a body of water and possession terms should be independently verified by any interested party.
*information as of 8.31.2017
« NEW LISTING! Beautiful home near Grayling including central air, 3 bedrooms, 2 full baths and more | Home | Listings on the AuSable River »