Prudenville Lake Frontage Real Estate Inventory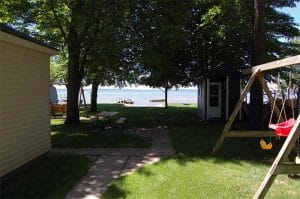 Living a carefree, lakeside lifestyle has never been easier thanks to Ken Carlson Realty. Ken Carlson Realty currently has several exceptional Prudenville Lake Frontage property listings available within varying price ranges to ensure that everyone gets equal opportunity to enjoy all that lakeside living has to offer. For incredible homes with even more incredible views, check out these premier listings to see which view is right for you!
103 Reflection CT Prudenville, MI 48651 (on Houghton Lake)

Completely landscaped, this well designed $199,000 four-bedroom, two-bath home has numerous features that help make it one of the best affordable listings in Prudenville. With a vaulted great room, a bedroom loft, a rec room with a pool table, and a yard that features a shuffleboard set up, a garden shed, and even a spa room with its own hot tub it's clear that amazing views aren't the only thing this home offers.
327 Sheridan Prudenville, MI 48651 (on Houghton Lake)
This incredible four-bedroom, two-bath, one-owner home starting at $275,000 was built for year-round living and features breathtaking sunrise and sunset views over the lake. Ample windows for unrestricted lake views, and brand new sliding, roofing, and more have helped create this maintenance free, ready to move in, Prudenville paradise!
211 Dixie Prudenville, MI 48651 (on Houghton Lake)
Custom built less than 15 years ago, this three-bedroom, two-bath home is so beautiful you have to see it to believe it. Knotty pine cathedral ceilings are just one of the things that will help guarantee you fall in love with this listing. For only $299,900 this remarkably stunning home could be all yours.
Information contained herein is not guaranteed, and is subject to change without notification. Room size, square foot measurements, lot size and acreage, tax information, parcel numbers, age of dwellings, mineral rights, legal access to a body of water and possession terms should be independently verified by any interested party.
*Information as of 11.30.2017
« Roscommon County Lake Frontage Real Estate Inventory | Home | Sold! 305 Golfview Roscommon MI 48653 »