Roscommon County Lake Frontage Real Estate Inventory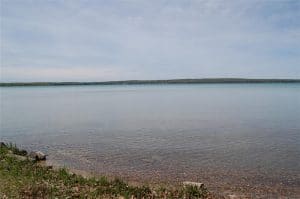 Nothing is more beautiful than sitting on your porch overlooking the lake in the morning as the sun rises and you enjoy your first cup of coffee. Lakeside living is a life of luxury that many feel they cannot afford, but that just isn't true. Ken Carlson Realty offers numerous Roscommon County Lake Frontage properties to choose from in different price ranges to give everyone the chance to enjoy the finer things in life. Check out these premier listings to see which view is right for you!
203 Sam-O-Set Roscommon, MI 48653 (on Higgins Lake)

This gorgeous remodeled two-bedroom home starts at only $295,000 and offers incredible views from a large, concrete, partially covered patio. With features including a large stone fireplace and a two-car garage this home would make the perfect residence for any small younger or older couples seeking a relaxing place to enjoy their life.
59 Treasure Island Roscommon, MI 48653 (on Higgins Lake)
Starting at only $319,000 this unique two-bedroom home offers more than just luxury. Everything from its metal roofing and granite countertops to its split field stone fireplace and endless hardwood inside and out help create a one-of-a-kind aesthetic you won't believe. This home includes membership to the Treasure Island Association and mainland boat docking for your convenience. Everyone wants to live on Treasure Island, and now you can.
9000 W Higgins Lake Roscommon, MI 48653 (on Higgins Lake)
This log cabin inspired home is a three-bedroom and one and a half bath starting at $324,900. The large loft style bunkroom can accommodate more than six beds with a basement garage that can fit more than 15 additional people, making this the perfect choice for large families who hope to host a lot of people during annual family get-togethers. Impress guests and relatives with the knotty pine interior, start up a fire, and enjoy the incredible 75' of waterfront views.
3514 W Higgins Lake DR Roscommon, MI 48653 (on Higgins Lake)

Truly one-of-a-kind, this amazing $485,000 lakefront home offers potential residents three-bedrooms, two baths, a cedar sauna, a large sunroom, and a massive wrap around deck for the ultimate living experience. A small guest cottage with an open floor plan sits away from the main house to provide privacy for guests without excluding them from the incredible lake views.
Information contained herein is not guaranteed, and is subject to change without notification. Room size, square foot measurements, lot size and acreage, tax information, parcel numbers, age of dwellings, mineral rights, legal access to a body of water and possession terms should be independently verified by any interested party.
*information as of 11.30.2017
« New Listing! Higgins Lake living at its Best | Home | Prudenville Lake Frontage Real Estate Inventory »