Sold! 201 Jeanette Grayling MI 49738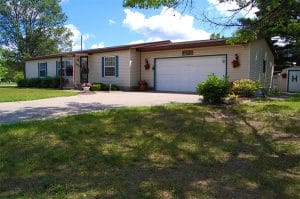 This newer home built in 1991 is beautiful throughout and includes central air, 3 bedrooms, 2 full baths, split floor plan, large walk in closets and is located just north of town by a few short walkable blocks. The 1,344 square foot home has vaulted ceilings, walk-in closets, and a door wall leading to the backyard.
The yard includes an 8 X 10 shed for yard storage, covered outdoor patio and additional parking next to house for convenience when friends and family come to visit. The ¼ acre lot is surrounded by a privacy fence and comes with a 2 car garage and electric garage door opener, blinds, drapes and curtain rods, range and oven, refrigerator, washer, dryer, and microwave oven.
Grayling is one of Northern Michigan's most desirable cities to live in and therefore makes a good investment. The popular recreational destination has activities and events that every member of the family can enjoy. From pristine golf courses, to fishing, skiing, swimming, hunting, biking, bird watching, nature trails or just the peace and tranquility of rural living, Grayling is the ideal location to purchase property. Grayling provides unique outdoor experiences all year round, which makes it the perfect example of all that Grayling and Northern Michigan cities have to offer to prospective home buyers.
Heating and Cooling
Heating: Wall
Heating/Air: Forced Air, Natural Gas, Central Air
Appliances
Appliances & Equipmt: Blinds, Range/Oven, Refrigerator, Ceiling Fan, Dishwasher, Drapes, Curtain Rods, Dryer, Washer, Microwave, Garage Door Opener
Flooring
Other Interior Features
Interior Features: Vaulted Ceilings, Walk – In Closet, Doorwall
Blinds, Range/Oven, Refrigerator, Ceiling Fan, Dishwasher, Drapes, Curtain Rods, Dryer, Washer, Microwave, Garage Door Opener
While this property in Grayling is no longer on the market, you can still find your perfect home in Northern Michigan. Ken Carlson Realty is Northern Michigan's real estate specialist and can find you the Northern Michigan home of your dreams. Whether you're in the market for a full-time or seasonal get-a-way, Ken Carlson can find it. Ken Carlson is knowledgeable of properties with lakefront or lake access in Northern Michigan. Call Ken at 989.240.0970 and tell him what exactly what you're looking for and your price range, and he will help you find it.
Though properties like these sell fast, there are currently several homes on the market in Grayling and throughout Northern Michigan. Many of the properties for sale are near popular lakes like Higgins Lake and Houghton Lake, and other lakefront properties. There are homes available in just about any price range you are looking for. Don't wait, now is the time to buy while interest rates are still relatively low and inventory is available. For more information about other properties for sale in Grayling, Northern Michigan or on Higgins Lake or Houghton Lake, call Ken Carlson today at 989.240.0970.
Information contained herein is not guaranteed, and is subject to change without notification. Room size, square foot measurements, lot size and acreage, tax information, parcel numbers, age of dwellings, mineral rights, legal access to a body of water and possession terms should be independently verified by any interested party.
« Houghton Lake Waterfront Property Inventory | Home | New Listing! Higgins Lake living at its Best »