Houghton Lake Waterfront Property Inventory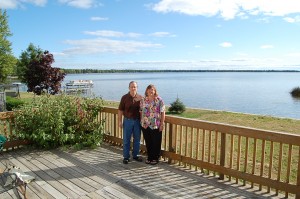 Because of all the recreational activities and the sheer beauty and tranquility of the Houghton Lake area, it is one of Michigan's most popular real estate locations. From the "Snow Birds" that make the area their summer home to those who just prefer a quieter more tranquil way of life, homes in Houghton Lake are in high demand. As a four season recreational community, residents can enjoy the outdoors all year long. From exceptional fishing to sandy beaches where sunbathers, swimmers and boaters come to enjoy the clear blue waters, Houghton Lake is the place to be.
There are a large number Houghton Lake waterfront properties in area that are perfect for any needs a buyer might have. Homes starting at under $100,000 like the one* on West Houghton Lake that is a re-modeler's dream! This 3 bedroom, 1 bath home comes with a lot of history and has 46 feet of lake frontage on Houghton Lake's south shore. It has a walk-out basement for mechanicals and storage and includes great lake views! Another Houghton Lake waterfront property listing* under $100,000, is an updated cottage on the desirable south shore of Houghton Lake. The open floor plan offers a great view of the lake, includes two bedrooms, one bathroom and a large storage shed for your toys.
For less than $150,000 another Houghton Lake waterfront property listing is on 58 feet of Houghton Lake spectacular Long Point Canal! This is an excellent fishing spot! The listing includes 3 bedrooms, 2 bathrooms, open floor plan with lake views from kitchen, dining room, living room and two of the three bedrooms. The other side of the house looks on to mature trees and is free of neighbors! For less than $300,000 there is a Houghton Lake waterfront property* sure to impress. This is a must see home where you can enjoy sunrises and sunsets from your own patio. This amazing house offering 4 bedrooms, 3 bathrooms and a large recreational room make it perfect for entertaining.
Houghton Lake waterfront properties tend to sell quickly and property values are stable so now is the time to buy! Ken Carlson Realty is your source for Northern Michigan real estate including Houghton Lake waterfront properties. From vacation homes to the family home of your dreams on Houghton Lake, Ken Carlson can help you find just what you're looking for and within your budget. The Houghton Lake waterfront property inventory includes dozens of great listings. Whether you are looking to vacation or to live, Houghton Lake is perfect for your needs. Ken Carlson Realty is your source for the latest Houghton Lake listings. Call Ken Carlson at 989.240.0970 for more information today.
Information contained herein is not guaranteed, and is subject to change without notification. Room size, square foot measurements, lot size and acreage, tax information, parcel numbers, age of dwellings, mineral rights, legal access to a body of water and possession terms should be independently verified by any interested party.
*information as of 9.30.2017
« Listings on the AuSable River | Home | Sold! 201 Jeanette Grayling MI 49738 »