106 Barney Lake Dr Houghton Lake MI 48629 Sold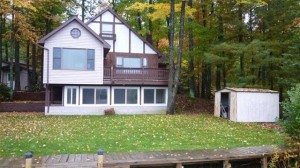 106 Barney Lake Dr Houghton Lake MI 48629 is a beautiful lakefront home in Northern Michigan which recently sold. Located on Barney Lake, lovely small lake just miles from Houghton Lake, this lakefront home offered plenty of space, great views, a walkout basement and much more.
Built in 1990, 106 Barney Lake Dr featured over 2000 square feet, lake frontage, 3 bedrooms, 2 bathrooms, a full basement, sunroom, laundry area, large master bedroom, lovely wood interior and an amazing location, just minutes west of I-127. The large 26 by 24 detached insulated garage 40 by 24 pole barn, central air, 200 amp electric service and great price tag made it an obvious choice for any family looking to relocate to one of Northern Michigan's premier outdoor areas. Sold for just $119,000, 106 Barney Lake Dr was just one example of why now is the time to buy in Northern Michigan.
Lakefront property is on the move especially in popular all sports areas such as Houghton and Higgins Lake in Houghton Lake and Roscommon Michigan. Smaller lakes like Barney Lake are an ideal choice for any lakefront buyer looking for a home on the water, close to Michigan's big lakes without the traffic and noise of the larger lakes. A peaceful woodland area, 106 Barney Lake Dr is just one of dozens of small and beautiful lakes found throughout the area. Great for fishing, swimming and canoeing, Barney Lake is just one of a number of wonderful lakes to choose from.
If you are looking for Houghton Lakefront property on the big lake or on any of Houghton Lake's many other small fishing lakes, creeks and rivers such as Barney Lake, Berry, Butterfield Creek, Elbow Lake or any other waterfront, Ken Carlson is ready to assist you. Specializing in waterfront real estate in Northern Michigan, Ken can help. No matter what you are looking for, count on Ken Carlson Realty to find you the home of your dreams.
Currently dozens of homes are for sale on and around Houghton Lake, many of which offer amazing lakefront access. Now is the time to buy. For more information about Houghton Lake homes for sale in Northern Michigan, contact Ken Carlson at 989.240.0970 today.
« 108 Albermarle Blvd Roscommon MI 48653 Sold | Home | Featured Home for Sale 210 Arbutus Lane Roscommon, MI 48653 »