108 Albermarle Blvd Roscommon MI 48653 Sold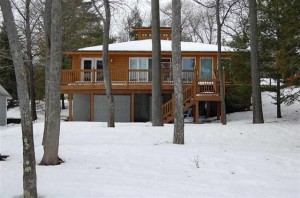 A beautiful single family home with 50 feet of lakefront in the Higgins Lake area recently sold. 108 Albermarle Blvd Roscommon MI sold for $247,000 and feature more than just a lovely view. A beautiful ranch style home on Higgins Lake features many fine amenities and features which include lovely wood siding, a full basement with outside entrance, a big deck and wood interior. Total square footage of this attractive lake home is over 2100 square feet, over 1,000 which is finished and included two bedrooms and one bath. Situated across the road from Michigan Central Park Blvd on the west side of Higgins lake, it truly is the ideal property for any lake front buyer in Northern Michigan.
Sold for almost $30 below the original asking price, 108 Albermarle Blvd Roscommon MI proves that now is the time to buy. Property values in Northern Michigan, including Higgins and Houghton lakefront are on the rise. Whether you in the market for a home with lake or riverfront access or would prefer something a bit more out of the way, we can help you find exactly what you are looking for.
108 Albermarle Blvd Roscommon MI may no longer be for sale, however, there are plenty of other amazing lakefront homes to choose from on Higgins Lake. If you enjoyed this home and are interested in seeing other Higgins Lake homes for sale, we invite you to look at more by clicking the link below.
Currently, we are featuring more than 40 homes for sale on this beautiful inland lake which range from $2.2 million to less than $100,000.
Higgins Lake Homes for Sale
Ken Carlson Realty PC is your source for Northern Michigan waterfront, riverfront or whatever else you are looking for. If you find a house you would like to see or have more questions about or would like to inquire about a home you don't see, we invite you to contact us directly by phone at 989.240.0970 or online.
« 147 Winding Dr Houghton Lake MI 48629 Sold | Home | 106 Barney Lake Dr Houghton Lake MI 48629 Sold »