2546 Santee Drive Roscommon MI Sold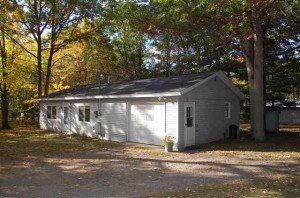 This quaint single family home in the Higgins Lake area recently sold for $42,000. A lovely home located on one of the largest lots in the neighborhood, 2546 Santee Dr also features 210' of frontage, recent upgrades to its roof, windows, doors and furnace and the recent installation of central air. This Roscommon home for sale offers frame construction, knotty pine interior, maintenance free vinyl siding, two bedrooms and one bathroom and 780 square feet.
A recreational paradise, 2546 Santee Dr, Roscommon MI is situated across the street from state land and less than a mile from Higgins Lake, one of Michigan's most well known and beautiful recreational lakes.  At just over $42,000, this home was a fantastic deal and represents just one of many amazing homes for sale in Roscommon and the Higgins Lake area. If you are interested in seeing other homes for sale in Roscommon similar to 2546 Santee Dr, contact Ken Carlson at 989-240-0970 for more information.
Just one of hundreds of homes and properties for sale in Northern Michigan, Ken Carlson Realty is your source for Northern Michigan homes for sale. If you would like more information about homes for sale in Northern Michigan, contact us at 989.240.0970 or online here.
« 205 Brookside Ct Roscommon MI Sold | Home | Featured Houghton Lake MI Home For Sale 147 Winding Dr »