Fantastic Northern Michigan Home with 5 Acres Sold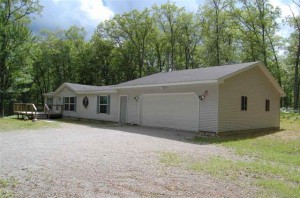 7873 Huron Forest Rd in Crawford County was a lovely single story home with many perks including 5 acres adjoining to state land which recently sold. Built in 2001, the home was a ranch style and featured a spacious interior of over 1,450 square feet in addition to a large garage. A lovely deck offered plenty of space for entertaining outside while the large master bedroom offered plenty of space to enjoy some time alone. Priced to sell, the home featured many bonus interior features such as skylights, a vaulted ceiling, wood burning fireplace, double glazed windows, satellite dish and central air. The addition of the large garage with opener made this property ideal for anyone who loves spending time working in the garage on toys for their acreage or the adjacent state land. Beautiful hilly terrain with plenty of hardwoods made this 5 acre parcel ideal for anyone who loves the outdoors.
7873 Huron Forest Rd was listed and sold for less than $60,000 and spent less than 50 days on the market. Located in a popular recreational area just off Chase Bridge Rd, this was perfect for those in search of an escape in Northern Michigan with a location close enough to Roscommon to still be convenient. Just one of many homes with property which are for sale, near Roscommon, Ken Carlson can help you sell your home too.
Whether you are looking to buy a home or sell the one you already own, Ken Carlson has the connections to help you. Real estate in Northern Michigan is on the move and now is the time to buy or sell. If you live in the Roscommon area and are thinking about selling your home, we invite you to contact us today. We can help you get your home sold. For more information on homes for sale in Roscommon or to get your home listed, contact Ken Carlson Realty at 1.989.240.0970.
« 40 Acres in Maple Forest Twp Sold | Home | Great Roscommon Home with Acreage Sold »