40 Acres in Maple Forest Twp Sold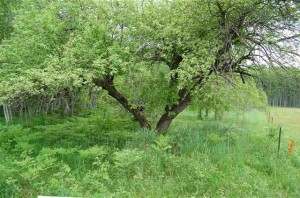 Sometimes great deals really are easy to find and in Northern Michigan, they are everywhere. Ken Carlson Realty was excited to see this property come onto the market and even more excited when it sold in just a few months. A fantastic wooded property perfect for any outdoor-lover, this 40 acre parcel on Sherman Road in Maple Forest recently sold for $41,000. Accessible from Marker Rd, this area is known for its beautiful mix of hardwoods and aspens and of course, the wildlife. The property still has an old abandoned cottage within its boundaries but the state of the cottage aside, this property epitomizes all that Northern Michigan is famous for.
Just one of hundreds of great properties in Northern Michigan for sale, deals like this are going fast. As hunting season approaches, you can be assured that properties like this 40 acre parcel in Maple Forest won't last long. While it is sold, Ken Carlson Realty has plenty of others to show you.
Currently, we have over 2000 vacant properties listed for sale in the counties of Cheboygan, Presque Isle, Otsego, Montmorency, Alpena, Crawford, Oscoda and Alcona.vacant-land An addition 1000 plus vacant properties are for sale in the counties of Wexford, Missaukee and Roscommon as well.
Ranging from over 200 acres in Cadillac for just over 1.2 million to vacant acreage and lots on beautiful Northern Michigan lakes and streams throughout the region, there is really something for everyone. Begin your search with us here on Ken Carlson Realty.com.
Ken Carlson Realty specializes in Northern Michigan real estate. From vacant land like this beautiful 40 acres on Sherman Rd to the opportunities are endless. If you are looking to buy or sell property in Northern Michigan, Ken Carlson Realty has the experience and the desire to help you. Whether you are looking for a new home or hoping to sell your old one, contact Ken Carlson Realty at 989.240.0970 right away.
« Two More Great Northern Michigan Homes SOLD By Ken Carlson Realty | Home | Fantastic Northern Michigan Home with 5 Acres Sold »