3 Amazing Homes on the AuSable River That Are For Sale
The AuSable River is one of the premier recreational rivers in the state. From the pristine "holy waters" to the mainstream winding its way through a number of small Northern Michigan towns on its way to Lake Huron, the AuSable also hosts some of the most sought after vacation properties in the region. From cost-friendly cabins with access to the river to multi-million dollar houses with magnificent views, there are many to choose from to meet almost any budget.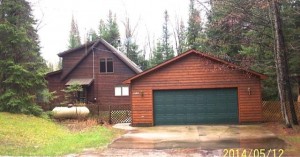 The first on our list of amazing homes on the AuSable River for sale is a large 2+ story home in the Grayling area. Located on Michelson Drive, this lovely home is listed for $239,000 and features not only 213' feet of stunning river front along the Holy Waters but over 2,100 square feet of living space as well. The home includes 2 full baths, 4 bedrooms, detached garage, lovely wood exterior, knotty pine interior and deck. Vaulted ceilings, included appliances and hardwood floors further set the property apart.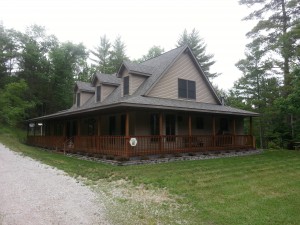 Next on our list of stunning river properties is this exceptional property located in a heavily wooded area in Crawford County. Located on Deckrow Trail, this huge home is 2,900 square feet on the South Branch and is listed at $599,000. Built in 1992, the home offers 2.5 baths, 3 bedrooms, detached garage, partial basement and 16 acres of wooded and riverfront property. Beautifully landscaped outdoor area, pole building, extra garage, cable, patio, natural siding, central vacuum, some included appliances, hardwood stove, pellet stove, security system and a stunning interior with vaulted ceilings makes this one to look at.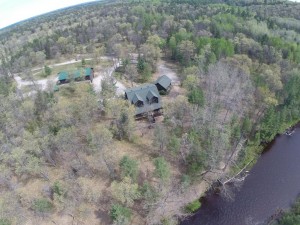 Third on our list is this lovely home on Truettner Trail. Listed for $449,000 acres, this home is considered a "modern-rustic" log home. From its 295' of river footage to its large heated outbuilding/workshop, in addition to 4,400 square feet makes this a property with an amazing price. Located on the South Branch, this home includes 3 bedrooms, 2 baths a finished basement, deeded access and a lovely log construction and was built in 2006. From the massive porch to the heated workshop with its own kitchen and bath not to mention stunning home interior with wood interior, deals like this are hard to find.
If you are looking for a home on the AuSable River, Ken Carlson can help. A buyers agent, Ken can assist you in locating the ideal property you are in search of along the AuSable River, the Manistee River or elsewhere. Now is the perfect time to buy a home in Northern Michigan. For information on any home listed here or elsewhere, contact Ken Carlson Realty PC at 989.240.0970.
Information subject to change and taken from IDX on 1.28.2015.
« New Year's Resolutions 2015 for Homeowners | Home | 4 Luxury Homes for Sale in Northern Michigan You Won't Believe »