Featured Ausable Riverfront Property For Sale 10752 Algonquin Trail Roscommon MI 48653
Updated 10.8.2013: This listing has been sold! Click here to view all listings.
Just one of almost 70 riverfront properties listed on our site for sale, this beautiful home, listed for $154,900, recently sold for $139,000. While this amazing riverfront home may no longer be available, there are plenty more to choose from. Click here to begin your search for your ideal Ausable riverfront property today. Don't wait till its too late, contact Ken Carlson Realty for more information on riverfront homes for sale in Northern Michigan.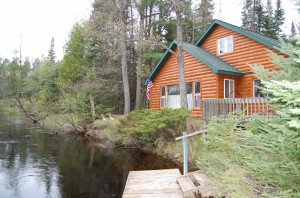 First posted on July 2, 2013.
Amazing waterfront views of the famous Ausable River's south branch and a gorgeous log home make this property for sale in Roscommon perfect for anyone. Turn key ready, this lovely river home is located on a bend of the Ausable river south branch making it more private than most. A recreational paradise 10752 Algonquin Trail features new updates as well as sky lights in the bedroom and living room and over 1,100 square feet, as well as vaulted ceilings, knotty pine interior, a fireplace and matching siding on the garage and shed. Picture windows in the living room and kitchen offer beautiful views of the over 200 feet of riverfront included. Listed at $154,900, this is a great deal and won't last long.
If you are looking for a riverfront home in Roscommon or anywhere in Northern Michigan, contact Ken Carlson Realty at 989-240-0970, your source for Northern Michigan waterfront real estate.
« Featured Houghton Lake MI Home For Sale 147 Winding Dr | Home | 10744 Algonquin Trail in Roscommon MI Sold »