AuSable River Riverfront House for Sale
Updated 10.15.2013: This listing has been sold! Click here to view all listings
Listed at $119,000, this beautiful Ausable riverfront property recently sold for $110,000. 1885 Ausable River Trail was just one of 68 amazing riverfront properties we have listed. If you are interested in riverfront property on any of our many Northern Michigan rivers, let Ken Carlson Realty help you.   To begin your search, click here and let us assist you in finding the property of your dreams.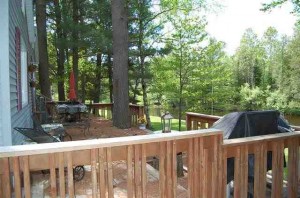 First posted on June 10, 2013.
Situated on the beautiful South Branch of the AuSable River, this home has recently been listed for $119,000. Including 2 bedrooms, 1 full bath and a 2 car garage, this lovely 1 story home is located at 1885 Ausable River Trail in the Roscommon area of Crawford County.
The property includes over ¾ of an acre of land and approximately 100 feet of waterfront. Home features include over 1,000 square feet of living space, a porch, detached garage, frame construction, septic, well, propane gas forced air heating, as well as appliances including dryer, oven, refrigerator and washing machine.
Ken Carlson Realty Your Source For AuSable River Riverfront Homes For Sale
If you are interested in learning more about this beautiful South Branch Ausable River riverfront house for sale or any of other Northern Michigan riverfront real estate, contact us. Call Ken Carlson Realty at 989.240.0970 or contact us on our contact page. Contact Ken Carlson, your well connected, well respected and well informed Northern Michigan waterfront real estate agent.
« 10744 Algonquin Trail in Roscommon MI Sold | Home | Featured Home For Sale 331 Holton St Higgins Lake MI 48627 SOLD »