Residential or Commercial Use Property for Sale Right on Houghton Lake: Find out more about 6299 E Houghton Lake Drive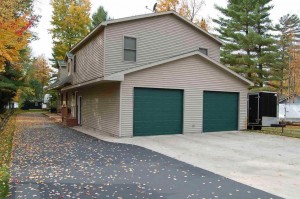 It would be easy to imagine living in this beautiful upscale home with all the amenities.  Plenty of space to entertain guests in this 2,572 square foot home with 2 bedrooms, 3 bathrooms and a heated, attached garage. The main living area blends warmly with the dining, kitchen area and pellet.com fireplace creating a cozy atmosphere for friends and family to enjoy.  Beautiful hardwood floors throughout, and the kitchen boasts cherry cabinets with quartz counter tops and stainless steel appliances. The home has a convenient 1st floor laundry and plenty of closet space.  The master bath has cedar wood, ceramic tile and a walk-in closet. All appliances are included: dishwasher, gas dryer, microwave, gas oven/range, refrigerator and dishwasher.
View 6299 E Houghton Lake Drive >>
The upper level has its own bedroom, kitchen, living and dining area along with a luxury bath with jet tub.  The upper level is approximately 640 additional square feet and is unfinished but is ready to be finished to suit your desires with deck overlooking the lakefront.
Situated on 50 feet of frontage with a sandy beach and lake bottom, a dock and 3 row boats are also included for your summertime fun. The property has four guest cabins currently known as Hagerty's Northwinds Resort that produce rental income to help pay the cost of ownership.  Built in 2006, this home is a great deal at just $339,000.
Click here to view a White Sheet – Investment and Vacation Home Buyers Survey 2015 from the National Association of REALTORS® >>
Rental information according to the National Association of REALTORS®.:
Suppose you rent the entire property for $3,600.00 per week for 12 weeks which could produce gross income of $43,200. Taxes may be $7,476.00, insurance $2,450.00 per year. You can save yourself the management fee if you rent it yourself and clean the house. If you need to have others help you with cleaning and management the costs that may run 20% of the gross rents for management and $500.00 per week cleaning.
For illustration the buyer has $339,000.00 cash and is looking for a real estate purchase to invest in. Bank CD rates at 1.5% would only bring approximately $5,085.00 per year.
Ken Carlson Realty is your source for Northern Michigan Residential Real Estate covering the counties of Crawford, Missaukee, Roscommon, and Otsego and Residential properties in the cities of Grayling, Higgins Lake, Houghton Lake, Gaylord, Roscommon and more.
Begin your search today in either of these prime lakes in Northern Michigan, with Ken Carlson Realty, by calling Ken at 1.989.240.0970.
The above illustration is for planning purposes only and the user should consult the vendors that perform all the above services for specific costs. An attorney and CPA should be consulted for any legal liability, taxes and costs of ownership. Township and county ordinances should be verified for any compliance necessary.
Information contained herein is not guaranteed, and is subject to change without notification. Room size, sq.ft measurements, lot size and acreage , tax information, parcel numbers, age of dwellings, mineral rights, legal access to a body of water and possession terms should be independently verified by any interested party.
« Higgins Lake Waterfront Home on 75 Feet of Higgins Lake Frontage – Ready to Occupy | Home | Higgins Lakefront Property SOLD – 1005 Sam O Set Higgins Lake, MI 48627 »