Higgins Lake Waterfront Home on 75 Feet of Higgins Lake Frontage – Ready to Occupy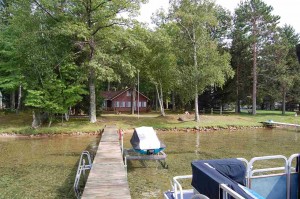 Higgins Lake is tailor-made for anyone wanting to delight in the benefits of living on a pristine lake. Higgins Lake is considered one of the most beautiful lakes in the world. Homes in the area are in high demand as people flock to the area to find their dream homes.  Because this highly sought after area is prime territory, real estate values have traditionally had steady appreciation and will continue to do so because of the limited lake resources.
This Higgins Lake waterfront home on 304 Cardinal Higgins Lake includes 75 feet of frontage is ready to occupy. The gorgeous deep lot with trees and open spaces for recreation is nature at its best. The well cared for chalet/cottage is the perfect retreat with its field stone fireplace to warm your body and soul on those chilly nights. Loads of deck area, ideal for relaxing with family and friends. With 4 bedrooms and 2 baths there is plenty of room. One of the bedrooms is a loft with ladder access for the kids. The large 26 x 40 garage offers more than enough space for the cars, boat and toys. Old Point Comfort provides some the best Sunsets on Higgins Lake!
Lots of room to recreate with this huge 75 X 418 lakefront lot. This property may also support the expenses of ownership with weekly rental income for the weeks you choose.
Suppose you rent this property for $1400 per week for 12 weeks which could produce gross income of $16,800. Taxes may be $9300 insurance $1000 per year. You can save yourself the management fee if you rent it yourself and clean the house. If you need to have others help you with cleaning and management the costs may run 20% of the gross rents for management and $100 per week cleaning.
Click here to view a White Sheet – Investment and Vacation Home Buyers Survey 2015 from the National Association of REALTORS® >>
For illustration, the buyer has $445,000 cash and is looking for a real estate purchase to invest in. Bank CD rates at 1.5% would only bring approximately $6675 per year.
Ken Carlson Realty is your source for Northern Michigan Residential Real Estate covering the counties of Crawford, Missaukee, Roscommon, and Otsego and Residential properties in the cities of Grayling, Higgins Lake, Houghton Lake, Gaylord, Roscommon and more.
Begin your search today in either of these prime lakes in Northern Michigan, with Ken Carlson Realty, by calling Ken at 1.989.240.0970.
The above illustration is for planning purposes only and the user should consult the vendors that perform all the above services for specific costs. An attorney and CPA should be consulted for any legal liability, taxes and costs of ownership. Township and county ordinances should be verified for any compliance necessary.
Information contained herein is not guaranteed, and is subject to change without notification. Room size, sq.ft measurements, lot size and acreage , tax information, parcel numbers, age of dwellings, mineral rights, legal access to a body of water and possession terms should be independently verified by any interested party.
« A Buyers Guide to Home Inspections | Home | Residential or Commercial Use Property for Sale Right on Houghton Lake: Find out more about 6299 E Houghton Lake Drive »