147 Winding Dr Houghton Lake MI 48629 Sold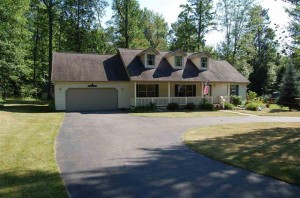 This large and inviting property with lots of extras and updates recently sold for only $115,000. Featuring two large decks, large kitchen, two baths and 3 bedrooms, 147 Winding Dr has enough room for even a growing family. With over 1,500 square feet, a two car garage, laundry/utility room, 2 bathrooms in addition to a living and a dining room, this home has plenty of space in addition to the convenience of being move-in ready.
Located in a lovely subdivision not far from beautiful Houghton Lake, this home is the ideal setting for any family. Close to one of the most popular lakes in Northern Michigan and far enough away to enjoy the peace and quiet of a neighborhood environment, its location is just another of its charms.
In addition to its location and interior features, 147 Winding Dr also offers many fine exterior features. From a newer exterior and windows to a two car garage and a large yard complete with irrigation, it was a great price for a great property in Northern Michigan.
Houghton Lake Homes for Sale
147 Winding Dr Houghton Lake MI may no longer be for sale, but it is just one of many newer and well maintained homes for sale in the Houghton Lake area. If you are looking for a home in Houghton Lake MI, begin your search here.
Ken Carlson Realty offers years of experience in the business and a dedication to his clients. Helping you find the home of your dreams, Ken Carlson Realty is your source for northern Michigan waterfront real estate. If you are looking for a new home, take a look at our properties for sale. If you don't see what you are looking for, contact Ken Carlson directly at 989.240.0970 for further assistance. You may also contact us online here. Now is the time to find a home in Northern Michigan. Don't wait until prices get to high, find the home of your dreams today.
« 103 Sam-O-Set Blvd Roscommon, MI 48653 Sold | Home | 108 Albermarle Blvd Roscommon MI 48653 Sold »