Listings on the AuSable River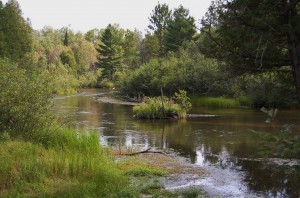 If you're looking for a home in Northern Michigan, whether a permanent residence or seasonal home, you may have a specific area in mind, a price range, or things you feel are "must haves." For example, you may need 3 bedrooms, 2 baths, a large yard and a two car garage. You may be looking for a small house or one more spacious. Do you want something move in ready, or is a fixer upper more appealing to you? All this considered the number one thing that should be a factor in your consideration is location. There are few areas in Michigan that have a better appeal and a better resale value than those in Northern Michigan, especially along the AuSable River. When it comes to a real estate investment it's all about "location, location, location!"
The beautiful AuSable River is a major tributary that flows though the state and out to Lake Huron. The AuSable River is a 180-mile river that is famous throughout the country for its trout fishing. Because of its moderate flow, the river is also a favorite of kayakers and canoers. There are numerous properties along the AuSable River that flows through the counties of Otsego, Montmorency, Crawford, Osco, Alcona, Roscommon, Ogemaw, and Losco. Homeowners along the AuSable River can fish and put in their kayaks right from their own property, and if the view is what matters most, catching a glimpse of a bald eagle or other wildlife is a real thrill to nature lovers.
If you're searching for a home along the AuSable River, how about a completely remodeled riverfront chalet* with 105' frontage, two bedrooms plus a loft, brand new kitchen cabinets, countertops and appliances for only $87,500? It comes with refinished hardwood flooring, fresh carpet, bathroom fixtures, exterior French doors and fresh paint. The home has vaulted ceilings in the living room and rustic accents throughout and includes a aauna that just needs an electric connection. If you're looking for more room, check out this spacious 5 bed, 3 full bath property* in a desirable, quiet neighborhood with deeded access to the East Branch of the AuSable River. For those looking for even more, there is a "dream come true" home* located on 14 acres, this beautiful custom built home features 1,700 square feet, 4 bedrooms, 2 baths, wood floors, stone fireplace, open ceilings, ceramic tile, full walkout basement, and an attached 2 car garage, guest cottage and a shed. The home is located at the end of private road. Listed at $328,000!
There are property listings for every taste and budget along the AuSable River. You can search our AuSable River property listings here on our website or call for additional help. Ken Carlson Realty is the right choice to help you locate a year round home or vacation home. Call Ken Carlson at 989.240.0970 for more information today.
Information contained herein is not guaranteed, and is subject to change without notification. Room size, square foot measurements, lot size and acreage, tax information, parcel numbers, age of dwellings, mineral rights, legal access to a body of water and possession terms should be independently verified by any interested party.
*information as of 9.30.2017

« Current Inventory for Sale on Higgins Lakefront | Home | Houghton Lake Waterfront Property Inventory »