Higgins Lake Business To Open Oak Park Grocery
4201  E Higgins Lake Dr Is The Location…………….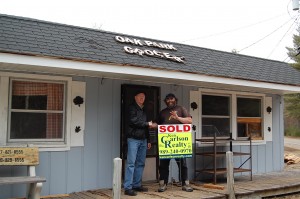 Welcome to the Oak Park Grocery Store on Higgins Lakes east side. The store has been closed for many years and has recently been purchased.  Joe Howard, the new owner is hoping to open by Memorial Day weekend. Joe claims he will offer friendly service. Fresh bread and doughnuts will be offered daily along with other staples including milk, coffee and butter.  Later in the day order your pizza and pick up soft drinks, beer, wine and juice beverages.  Over time Joe will offer meats and other novelties that vacationers and residents  will enjoy. 
The Kelley Beach neighborhood has missed the convenience  of the store which was established decades ago. When I was a boy in the 1960s I would bike by the store on my way to swim at Kelley Beach. Back in those days, you could buy a pop, bag of chips and a candy bar for about 50 cents! That was over 45 years ago!  Best wishes to Joe and feel free to stop and get acquainted with the new owner and his staff.
« AuSable And Manistee River Real Estate | Home | "For Sale By Owner" Higgins Lake Roscommon Michigan »