Featured Riverfront Home For Sale 1796 DeWitt Trail Roscommon MI 48653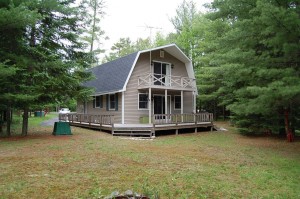 More than just a house, this featured listing is a beautiful and spacious home with a large detached garage and amazing waterfront views on the famous South Branch of the Ausable River as well. Listed at $119,900, this lovely home offers 1,230 square feet, many updates including newer carpet on the upper level and more. Four bedrooms and 2 baths offer ample living space for family or friends in addition to many other rooms including living room, dining room, and kitchen as well as a separate utility room.
What sets this property apart are all its other amenities and conveniences which include not just the indoor features but the outdoor features as well. Aside from the 100 feet of river frontage, the property also includes a pond as well as a paved driveway. The home offers the convenience of two sources of heating including a forced air propane central furnace as well as a wood stove. A large deck outside also offers you a great place to relax and enjoy your lovely riverfront views.
This home is located at 1796 DeWitt Trail Roscommon in South Branch Township.   A beautiful property, this Ausable riverfront home for sale is a must see for anyone looking to buy a permanent home or even a vacation home.If you are interested in seeing 1796 DeWitt Trail Roscommon, MI 48653, contact Ken Carlson Realty at 1.989.240.0970 for more information.
Ausable River Real Estate
Ausable River real estate is on the rise in counties including Roscommon and Crawford. To see more Ausable River homes for sale click here. If you have questions about any of our listings, contact us for more information or to schedule a showing.
« Featured Home For Sale 4890 Dawn Dr Grayling MI 49738 | Home | 205 Brookside Ct Roscommon MI Sold »