103 Sam-O-Set Blvd Roscommon, MI 48653 Sold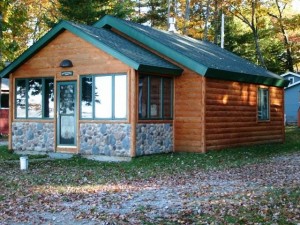 Located in a beautiful subdivision right off Higgins Lake, 103 Sam-O-Set Blvd Roscommon, recently sold for just over $160,000. Charming and well kept, this quaint northern Michigan retreat features a variety of recent updates, beautiful frontage and stunning views.
Offering a well maintained and rustic log exterior, the cottage also features a cottage roof and newly updated Andersen windows as well as an outdoor storage garden shed. The interior of this quaint northern Michigan retreat is approximately 640 square feet offers an efficient baseboard electric heating system as well as fireplace, two bedrooms, kitchen and living room and lovely knotty pine interior. Convenient as well as lovely, the new residents of this lovely property can enjoy the peace and serenity of the lake with the convenience of cable tv and cable internet as well. Other features of the property include a dirt driveway, well water, septic system and more.
Although this Higgins Lake property is no longer up for sale, there are many others available for you to choose from. Seasonal homes, property or year round homes are available for sale in the Higgins Lake area. If you are interested in other Higgins lake homes for sale similar to 103 Sam-O-Set Blvd Roscommon, MI 48653, contact us.
Recent Higgins Lake property values are on the rise. If you are interested in living on or near to this world class northern Michigan Lake, we can help. Ken Carlson is your source for Higgins Lake real estate. Offering years of experience and a dedication to helping you find the home of your dreams, we can help you find what you are looking for in northern Michigan. To learn more about homes for sale in northern MI, contact us at 1.989.270.0970 or fill out a contact form today.
« 6394 Reilly Rd Houghton Lake MI 48629 Sold | Home | 147 Winding Dr Houghton Lake MI 48629 Sold »