6394 Reilly Rd Houghton Lake MI 48629 Sold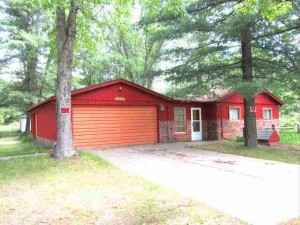 Featuring 99 acres of beautiful meadows, mixed hardwood woodlands and abundant wildlife characterize this one of a kind northern Michigan property which recently sold for only $194,000.  Located in Houghton Lake, the property is an outdoors paradise with manicured trails, fenced in perimeter in addition to a year round hunting cabin and more.
Perfect for a permanent year round property or as a hunters retreat, this property includes not only a stick built home but a barn, garage and even a mobile home as well. Both homes come furnished and provide plenty of space for you and your friends and family to get out and enjoy the beauty of northern Michigan in all seasons.
Features of the main home include a propane heating system as well as wall furnace, wood and brick veneer exterior, septic, well water, full bathroom, furnished interior, 3 bedrooms, kitchen and living room. The included mobile home offers an additional two bedrooms and living space as well.
The property also features 3 separate wells, two attached garages and an abundance of space. Peace and quiet and northern Michigan beauty characterize this lovely property, a one of a kind property in Roscommon County.
Like other properties in the area, now is the time to buy. Although this property is sold, there are plenty of other amazing deals in northern Michigan. Home prices are on the rise and finding homes with close to 100 acres included for less than $200,000 may not always be possible. To find out more about other homes like this one in Roscommon County, you may look at our listings or call Ken Carlson directly at 1.989.240.0970.
Although 6394 Reilly Rd Houghton Lake MI 48629 may be sold, there are plenty of other Roscommon Homes for Sale. Ken Carlson Realty is your source for Northern Michigan real estate. If you are looking for a home or just a vacation property, Ken can help you get the property of your dreams. Don't wait, contact Ken today.
« Choosing The Right Northern Michigan Lakefront Property | Home | 103 Sam-O-Set Blvd Roscommon, MI 48653 Sold »