Choosing The Right Northern Michigan Lakefront Property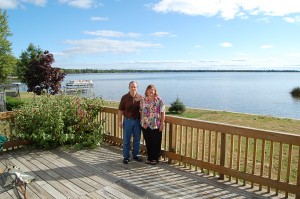 Michigan is well known for its lakes, rivers and streams and for its amazing waterfront real estate. From large inland lakes such as Higgins or Otsego Lake to the mighty Ausable River and the hundreds of small lakes and streams which can be found in counties throughout Northern Michigan, there truly is something for everyone.
When it comes to purchasing your first Northern Michigan lakefront property it is important that you understand that properties are as diverse and the waters themselves. Small or large, great for high speed boating, restricted to residents or known for their wildlife and no-wake, Ken Carlson Realty invites you to review some helpful tips to consider when purchasing your ideal Northern Michigan waterfront real estate.
What do you want?
When choosing what lakefront property is right for you, you should begin by knowing what you need and want from your home and property. Knowing why you are choosing a lakefront property will help you determine which lake and which property is right for your family for example, some lakes are good for boating with large boats however, and many smaller lakes in Northern Michigan do not allow larger boats or high-speed boating.  Consider the following when choosing the lake that is right for you:
Do you have a large boat or jet skis and do you plan on using them at your lakefront property?
Do you enjoy inland waterways and do you want access to them from your property?
Do you enjoy fishing? What kinds of fish do you like to fish for?
Do you prefer to canoe or kayak rather than high-speed boating?
How often do you plan on being there? Is it your year round home or just a vacation property? Do you plan on closing it for the winter or keeping it open?
What else do you enjoy in your life? Are the things you enjoy nearby to the lakes/rivers you are looking into?
Are sandy beaches important to you?
Do you want a view of the lake/river?
Do you want your own private space on the lake or will deeded access meet your needs?
Do you want space and property or will a small parcel meet your needs?
Once you have a list of your needs, interests and must haves, you can begin to narrow down your search to lakes or rivers which meet your basic criteria and then begin shopping for the ideal home to meet your needs and your budget for the perfect Northern Michigan waterfront home.
A List of Top Waterfront In Northern Michigan
Ken Carlson Realty offers homes and properties for sale on many lakes and rivers in Northern Michigan including but not limited to:
Higgins Lake
Houghton Lake
Lake St. Helen
Otsego Lake
Black Lake
Mullet Lake
Burt Lake
Ausable River
Manistee River
Muskegon River
If you are looking for a well-versed and qualified Northern Michigan waterfront real estate agent, contact Ken Carlson today at 989.240.0970. To begin your search, visit some of our Northern Michigan waterfront listings at the links below.
Wexford, Missaukee, Roscommon Counties:
Cheboygan, Presque Isle, Otsego, Montmorency, Alpena, Crawford, Oscoda, Alcona Counties:
« 5 Keys To Success When Buying Your Home | Home | 6394 Reilly Rd Houghton Lake MI 48629 Sold »